The One Project
This year's gathering of The One Project brought more than 700 people to Seattle for conversations on practical applications of Jesus' ministry in their own lives, churches and communities.
The annual gathering of The One Project has its roots in Japhet De Oliveira's 2009 cancer diagnosis, which he says was a wake-up call.
With the threat of a worsening sickness looming over him, De Oliveira met with a support group for two days in a Denver hotel in 2010. He and four fellow pastors revealed and examined issues in their lives. Now, his cancer in remission, De Oliveira has seen that small group grow into an annual gathering of hundreds of Seventh-day Adventists seeking to reconnect with Jesus in their personal and corporate worship.
This year's gathering of The One Project on February 13 and 14 brought more than 700 people to Seattle for conversations on practical applications of Jesus' ministry in their own lives, churches and communities. De Oliveira hopes it's an environment where people can honestly look at their own priorities, examine the core of Christianity, and promote Jesus in their theology as Seventh-day Adventists.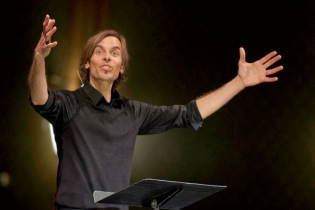 For some, it's a place to challenge and even question one's own beliefs.
"We're trying to create a safe place to say Jesus is the center of our church and always has been," said De Oliveira, chaplain for missions at Andrews University in Berrien Springs, Michigan. He's especially looking to support those who may become frustrated with the church.
"We love our church. I really do believe that God has called the Seventh-day Adventist Church and I'm tired of losing people when we work so hard to bring them in," he said.
The One Project is short on programming and long on discussions. De Oliveira says the event format grew out of his wish to make a gathering similar to the best part of the numerous conferences he attends each year – talking with people individually. A small stage is set in the middle of a banquet room and speakers are allowed 20 minutes to present. The event is then geared toward the 40 minutes of discussion at each table following the speaker.
"I go to so many conferences and so many meetings and honestly the best part is meeting with someone over lunch," De Oliveira said. "We didn't want to have another event that's packed with programming all day."
The gathering is also short on exhibitors. The only ones allowed are publishers.
"By reading, people will learn and change and transform their lives," De Oliveira said.
Sam Leonor, senior chaplain at La Sierra University, highlighted the 1888 meeting of the Adventist world church body at General Conference Session in Minneapolis, Minnesota, when leaders discussed righteousness by faith. "From that meeting in 1888, Adventists emerged re-focused on Jesus: crucified, living, and coming again," Leonor said.
Dr. David Kim, a family practice physician from Atlanta, said The One Project gathering was long overdue. "I grew up in a legalistic Adventist culture where the three R's dominated – rules, regulations, and rituals. Missing was the biggest R of Christianity – a relationship with Jesus."
The original meeting in Denver in July of 2010 brought the five pastors together for support and soul searching. De Oliveira admits he had "sort of lost [his] way," focusing on success as a pastor and not caring enough for his family or health. "I would only read the Bible to prepare sermons," he said.
The original five were De Oliveira, Leonor, Alex Bryan, pastor of Walla Walla University Church, Tim Gillespie, young adult pastor at Loma Linda Church, and Terry Swenson, senior chaplain at Loma Linda University.
It was a real honest conversation," De Oliveira said. "Some crying and a lot of praying. We said, 'let's do this at least once a year.'"
The group agreed to meet annually to focus on Jesus. Each invited friends for a similar meeting the following year in Atlanta. More than 170 people showed up.
For that 2011 gathering in Atlanta, participants may not have fully understood what they were coming to, De Oliveira said. They were each asked to read the four gospels and the book Desire of Ages, authored by Adventist Church co-founder Ellen G. White. The invitation then was simply, "Come have a two-day conversation about Jesus."
The conversation continues later this year in Australia and Denmark, and next year in Chicago. For more information, visit: the1project.org.