"In this crazy little virtual world, God found me and fed me what I needed to make me whole."
People are finding God in vir­tual reality. Even as a 20-something "digital native," I was intrigued.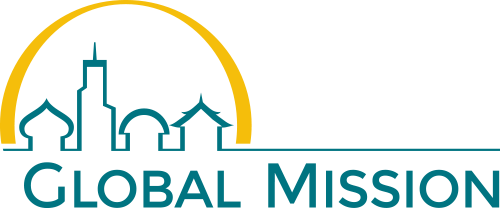 Through your support of Global Mission, churches such as this are planted
in areas or among people groups where there's no Adventist presence.
to share the good news of Jesus through wholistic ministry, such as providing medical care, teaching agricultural skills, offering literacy programs, holding evangelistic meetings, and giving Bible studies.
To donate, visit
Global-Mission.org/giving.
I was visiting Daystar Adventist Community Church, a Global Mission–funded virtual church plant. It began in 2010 when computer software developer Bob Curtice, then-university student Theo Zelin, and stay-at-home mom Pheona Avon dreamed of creating a Seventh-day Adventist church in Second Life. Second Life is an online virtual world that allows users to meet other users from around the world, create and buy content, participate in individual and group activities (like worshiping in churches), and more. Seeing that other Christian denominations had already established cyber churches in Second Life, Bob, Theo, and Pheona wanted to form an Adventist presence there as well. On September 17, 2010, Daystar Adventist Community Church was dedicated and held its first virtual service in Second Life with attendees from around the world. It's been holding Sabbath services online every week since.
I sat in on one of these services—well, my avatar did. In this cyber world, users create avatars—graphical representations of themselves—to get around, speak with other users, and participate in various activities. After I finally figured out how to get my avatar to sit on a pew (it was my first time in virtual reality), I took in my surroundings. Nearby sat the Information Center, where people could watch Amazing Facts TV and read Adventist publications. Inside the church, a female avatar played a hymn on the piano. Other avatars were scattered about the pews, gazing up at the display screens where a recording of Doug Batchelor played. It was definitely a church experience I had never had before!
After the service, I chatted with the attendees to find out how they came to this cyber church. Many were from other denominations or other faiths entirely. Some were bedridden and couldn't easily make it to a church in real life, didn't feel comfortable returning to a church in real life, or had no church to turn to at all.
One such attendee was a man whose username was LightWave. He described finding the cyber church "like finding water in the desert." Living in a closed country, LightWave felt God calling him to learn more about the Bible. As he began to secretly read the Bible and watch sermons online, he came across the Adventist message and felt convicted of its truth. But he felt isolated; he craved fellowship with other believers, particularly Adventists, but he knew that trying to find other believers in his country would risk his safety.
One day, LightWave felt God leading him to look into an online community of Adventists. Through a series of links and webpages he had never visited before, he found Second Life, where he immediately began looking for an Adventist church.
He finally found Daystar and eagerly went to check it out. But as he approached the cyber church, his heart sank. The church was empty! He began to lose hope and was about to close his account when another avatar appeared. He told LightWave that the cyber church was empty because the attendees weren't online, but LightWave could join them for worship on Saturday!
LightWave eagerly returned the following Sabbath and worshiped with the Adventist virtual community, even though the service was at two o'clock in the morning his local time. Connecting with Bob, he began taking Bible prophecy studies and learning about Adventist beliefs. He's come many Sabbaths since, at last finding the Christian fellowship he craved.
"These avatars are my family now," LightWave shared. "I feel mentally like I'm physically with other believers. For me, it's my underground church."
LightWave wasn't the only one to find community in the Adventist cyber church at a crucial point in his life. Outside of the virtual world, Sadiestark's family was on the brink. Her husband was drinking excessively and doing drugs, her daughter was also involved with drugs and getting in trouble with the law, and her parents died in a car accident. Reeling from these crises, Sadiestark came to virtual reality looking for people who could understand her.
She met Theo when shopping for content in Second Life. Aside from coordinating the cyber church, Theo was a social worker and a photographer selling nature photos online. Sadiestark bought some of his art, and when she learned about the social work he was involved in, jumped at the chance to gain his advice on her family situation. In their conversations, Theo invited Sadiestark to visit Daystar. She wasn't looking for a church, but she began to attend.
There, she met more people involved in social work, even one who was experienced in the juvenile justice system who could counsel her about her daughter. Sadiestark unknowingly found a whole network of people who could guide her through her family challenges. "What are the chances that four social workers would come into my life?" she said. "I don't know what I would have done if I didn't have the virtual world to support me."
This was coupled with the spiritual support she garnered as she continued attending the cyber church. "I received so many messages through the sermons that I really needed at the time," Sadiestark shared. "I would come to church and be needing something, but I didn't know what. But then the message would come."
Sadly, her daughter died in 2016 from a drug overdose. Despite losing most of her family in a few short years, Sadiestark found the cyber church to be just what she needed to support her through this difficult time. She expressed, "In this crazy little virtual world, God found me and fed me what I needed to make me whole."
Bob realized the virtual oasis that Daystar is to people like LightWave, Sadiestark, and others. "I have found," he said, "in working and supporting the virtual church, that it's really about person-to-person connections that are made which provide opportunities to lead people to Jesus. . . . There is a real person behind the avatar, and the Holy Spirit reaches that person's heart anyway. God has no limit on whom He can connect with."
Bob is further connecting the virtual church plant to a local Adventist church in real life. He created a virtual world extension called Gospel World, where Daystar attendees can better engage in an interactive church experience rather than simply watching a live stream. Gospel World also allows church members in real life to join in the ministry of the cyber church.
Your selfless gifts and prayers enable unique Global Mission church plants such as the cyber church reach out to people who are looking for spiritual community and who are wanting to learn more about Jesus. Thank you for your support that makes stories like these possible.