Sweat trickled down the builders' faces as they dug their shovels into the wheelbarrow. Most days it rained, but that particular day was dry and stifling.
They were mixing cement, sand, and seashells to form a concrete-like substance to build a house. The main ingredient would be plastic water bottles.
No one was more excited to live in the house than Abdallahi, a man affected by leprosy, who would be its first occupant, along with his family.
"I live in a shanty with my wife and daughters built from bits of tin roofing I found on the street," said Abdallahi as he watched the men work. "We have a latrine that's a hole in the ground with an old tire on the edge. We have very little privacy, and my wife hangs pieces of cloth to cover the open spaces."
Abdallahi's face beamed with excitement as he envisioned what his life would be like living in a new house with a roof.
Economic Hardship
Decent housing is hard to find for anyone living in Nouakchott, the capital of Mauritania, which is located on the coast of West Africa. Once a small fishing village in the 1950s, Nouakchott blossomed over decades, establishing itself with mosques, government buildings, and street markets. Severe drought since the 1970s, however, increased desertification and displaced a vast number of Mauritanians.
Among the displaced are people affected by leprosy, who are among the very poor; many can be spotted hiding in street corners covering their faces. A number of them aren't able to use their hands or have had their legs amputated.
Nouakchott, which has mostly an Arabic-dominated culture that believes in helping those less fortunate, allows the poor and those who are disabled and can't work to support their families by begging on the streets.
"Most people affected by leprosy and their families sleep in their clothes, often wearing those same clothes for weeks," said Dr. Bonnie Head, programs director for the Adventist Development and Relief Agency (ADRA) in Mauritania. "A majority of those affected by leprosy live in a wooden building called a brag made of boards. It's small enough to fit up to six people and has a door. Others live in an umbar, or a low tent-roofed covering with woven wire sides."
Dr. Head added that though these makeshift shelters provide some relief, the best solution is a one-room concrete structure attached to an umbar to protect against thieves, rain, the hot sun, and cold nights.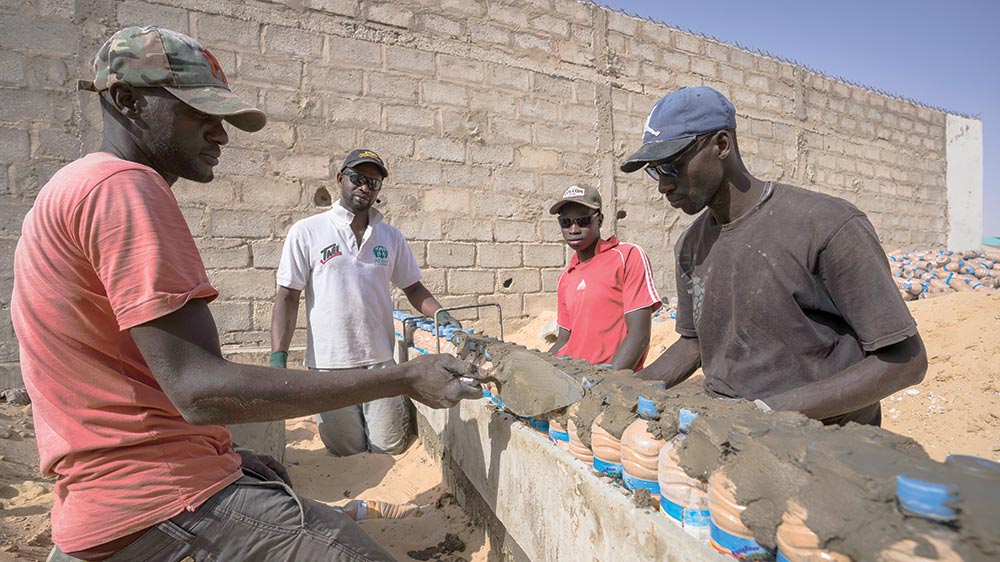 Building a Foundation
"ADRA wanted to build houses that gave people like Abdallahi a roof over their heads and not only build houses, but ones that were environmentally friendly," said Dr. Head.
Abdallahi was a member of the Mauritanian Association for the Aid of Persons Handicapped by Leprosy and introduced ADRA to Bacar, the association's president.
"I had difficulty obtaining work because of my leg," Abdallahi recalled. "For years, I couldn't feel my leg. I went to doctors, but no one could help me. In 2006, Bacar found me and helped me get treatment."
In 2018, with Bacar's help, ADRA received a grant to build one-room houses for three families. ADRA began operations on the pilot project to build the first house, but plastic water bottles were needed.
Winning Them Over
ADRA held programs at schools in upscale areas of town to sensitize the community to the detrimental effects of plastic waste in the environment. There was a growing trash problem covering acres of land.
"Water bottles are a large contributor to the volume of trash we have in Mauritania," said Dr. Head. "The bottles create space for pockets of water from rain or condensation, especially in the rainy season, forming an environment for mosquitoes to grow, which can spur an infestation of malaria and dengue diseases. Additionally, studies show that there is an ongoing danger of microplastics in the food that come from plastic breakdown in the soil."
With support from the local schools, ADRA collected more than 8,000 water bottles, most of which were purchased from businesses that collect, wash, and dry them. ADRA eventually gathered enough bottles to start construction.
The Work Begins
"We didn't have anyone on our team who built homes and decided to hire a consultant named Tateh," Dr. Head said. "He was known for building plastic bottle houses in a neighboring country."
Tateh spent days at ADRA's main office teaching the team about home construction and trained the builders assigned to the house project.
The builders filled each water bottle with sand. They then carefully aligned each water bottle next to another until the bottles completely covered the room. Lastly, they smeared the bottles with concrete to seal them in place.
"The final appearance of the house is the same as houses built with concrete blocks, an important factor in community acceptance," said Dr. Head.
Within a month, the first house was complete, and Abdallahi and his family moved into their new home.
A Fresh Start
Abdallahi and his wife looked on as their three girls, Hindu, Minetou, and Maimouna, played with each other.
"Who would have known we would be here today?" Abdallahi said. "I never thought I'd see this day."
The family also has three additional girls, who belong to relatives, living with them. The new home has enough space to accommodate the entire household.
Electricity was added to Abdallahi's home for telephone charging and to watch television. He even boasts about the latrine that was installed.
"The latrine is easy to keep clean, has a tile floor, and doesn't smell. Thanks to the generosity of ADRA, we now have a solidly constructed home, safe from the elements," Abdallahi said as he held back tears. "I now have the same dignity as even the president."
The Adventist Development and Relief Agency (ADRA) is the global humanitarian organization of the Seventh-day Adventist Church. Through an international network, ADRA delivers relief and development assistance to individuals in more than 118 countries. To learn more about ADRA, visit ADRA.org.
To watch ADRA mission stories, visit m360.tv/adra.
Thank you for supporting ADRA through your weekly mission offering given during Sabbath School or online at giving.AdventistMission.org!